Short-Term Visiting Fellows
The Willson Center Short-Term Visiting Fellows, nominated by UGA faculty, bring distinguished artists, scholars and performers to the arts and humanities community at the University of Georgia. Visiting Fellows conduct intensive workshops for faculty and students, and give public presentations of their work.
Natasha Barrett
Host: Peter Van Zandt Lane (Music)
Residency Date: January 2023
Natasha Barrett (1972) is a composer exploring new technologies and experimental approaches to sound in a broad range of contemporary music, including concert works, public space sound-art installations and multimedia interactive music. She is internationally renowned for her electroacoustic and acousmatic music, and use of 3D sound technology in composition. Her work is commissioned and performed throughout the world and has received over 20 international awards including the Nordic Council Music Prize, the Giga-Hertz Award (Germany), five first prizes and the Euphonie D'Or in the Bourges International Electroacoustic Music Awards (France), two first prizes in the International Rostrum for electroacoustic music and most recently the honorary Thomas Seelig Fixed Media Award for 2023. She collaborates with performers, visual artists, architects and scientists and is also active in performance, education and research.
Lecture/Presentation: Sound penetrates our outdoor spaces. Much of it we ignore, its qualities too quiet, fleeting or mundane to pay heed to amidst our thoughts and activities, or we may experience the sounds as an annoyance or disturbance. Maneuvering our listening to be excited by outdoor sound, especially urban or city soundscapes, is not so easy. Yet amongst the noise can be found qualities of interest. In this presentation I show how I use 3D sound recording, analysis and electroacoustic composition to reveal the music under the noise, with examples from some recent outdoor sound installations.
Concert: Experimental immersive/3D audio electronic music with multimedia works, utilizing the full capacity of the Dancz Center's multimedia and spatial audio capabilities.
Nathan Brown
Host: Jed Rasula (English)
Residency Date: March 2022
Nathan Brown, associate professor of English, Canada Research Chair in Poetics, and director of the Centre for Expanded Poetics at Concordia University in Montreal, gave two public lectures during his time at UGA as a Willson Center Short-Term Visiting Fellow.
On March 21, he gave a lecture titled "Field and Fragment: The Future of Romantic Composition from Basquiat to Beethoven."
On March 23, Brown gave a lecture to the Department of Romance Languages on "Knowledge of Nothing: On Apocalyptic Ekphrasis in The Flowers of Evil," drawing on his recently published translation of Charles Baudelaire's poetry collection Les Fleurs du Mal (1857).
Brown is the author of three books: The Limits of Fabrication: Materials Science and Materialist Poetics (2017), Rationalist Empiricism: A Theory of Speculative Critique (2021), and Baudelaire's Shadow: An Essay on Poetic Determination. He is also the translator of a new edition of Baudelaire's The Flowers of Evil (2021).
Marion Wynne-Davies
Host: Sujata Iyengar (English)
Residency Date: April 2021
Marion Wynne-Davies, professor of English literature at the University of Surrey delivered two remote presentations, both open to the public. The first was a virtual "master-class" with undergraduate students on "How Margaret Cavendish Mapped a Blazing World." Wynne-Davies also presented a talk on "Ease and Dis-Ease in 1 Henry IV" to graduate students in English 8300.
Wynne-Davies was responsible for establishing English as a discipline at the University of Surrey. She also one of the first to pioneer the use of placements in English Literature and Creative Writing degrees in the UK. She is known internationally for her path-breaking work on Renaissance women dramatists.
Lisa Wolpe
Host: Ray Paolino (Theatre and Film Studies)
Residency Date: February 2021
Lisa Wolpe, actor/director and internationally renowned theatre artist, is known as a leader of the movement for gender parity and diversity in the arts with a focus on Shakespeare and gender-neutral casting. Wolpe delivered a two-hour presentation which included a one hour-long video performance of her one-person show, Shakespeare and the Alchemy of Gender, which has toured the U.S. and Europe. In addition, she held a one-hour live discussion with students and faculty and the wider UGA community.
Wolpe's acting work has been seen at PlayMakers Rep, Oregon Shakespeare Festival, Utah Shakespeare Festival, TheaterWorks, Orlando Shakespeare Theater, and Berkeley Repertory Company among others. She has directed and adapted Shakespeare plays for decades, and has taught Shakespeare at NYU, Emerson, UCLA, USC, Cal Poly Pomona, Whittier College, ACT San Francisco, Boston University, MIT, the American Shakespeare Center, University of Colorado, Boulder, the Royal Academy of Dramatic Art, King's College, and the Royal Central School of Speech and Drama in London.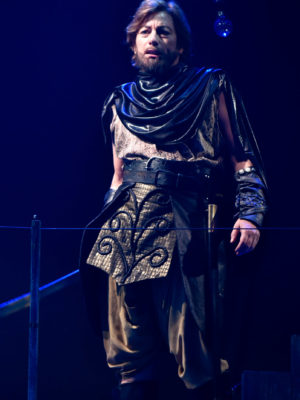 Sharon Rostorf-Zamir
Host: Stephanie Tingler (Hugh Hodgson School of Music)
Residency Date: October 2019
Sharon Rostorf-Zamir, Professor of Voice from the Buchmann-Metha School of Music at Tel Aviv University, visited campus as a Willson Center Short-Term Visiting Fellow. In preparation for her visit, five student participants studied pieces composed by Israeli composers.
Rostorf-Zamir engaged in master classes and rehearsals in preparation for the student performance. Much of her visit was devoted to undergraduates, as well as both graduates and undergraduate students for the Opera master classes. The recital was well attended by members of the local community.
Sebastian Kaempf
Host: Roger Stahl (Communications Studies)
Residency Date: November 2019
"The Geopolitics of Cyberspace: Global Political Trends and Their Impact on Security, Privacy and Human Rights," Sebastian Kaempf, senior lecturer in peace and conflict studies in the School of Political Science and International Studies at the University of Queensland (Australia).
Kaempf's latest book, Saving Soldiers or Civilians?, was published with Cambridge University Press. He is also the convener of the free, open, online course "MediaWarX: Global Media, War and Technology."
In this talk, Kaempf analyzed transformative effects that the Internet, social media apps, and cloud computing have had on societies and human beings. In particular, he looked at the original ideals underpinning cyberspace before focusing on three broad social trends that are affecting cyberspace today and how they are impacting on privacy, human rights, and freedom of speech: 1) the growing role of the state in cyberspace and the securitization of cyberspace; 2) the growth of a global market for cyberarms; and 3) the changing demographics of cyberspace. These developments, he argued, do not bode well for the future of the Internet, privacy, and human rights and therefore require each of us to change our attitude towards the information technology we are using on a daily basis.
Michael Kress
Host: James Enos (Lamar Dodd School of Art)
Residency Date: October 2018
Michael Kress is a conceptual and participation artist living and working in Hamburg, Germany. The focus of his work is to explore semiotics and language as normative moments in the construction of media-identities. Since 2004 Kress has been examining these "identities" as spatial imaginaries evidenced within films of the 1960s such as Lawrence of Arabia. His practice uses different media such as video, drawing, writing, sound and photography to expose conceptions of place and site as forms of conversation.
Sponsored by the Willson Center Short Term Fellowship, Kress will explore an Athens iteration of his 2014 Yokohama, Japan public participation work ADORE while in residence at UGA. Working with students, local artists, and musicians as interlocutors, Kress will host video and conversational-photography workshops exploring how "pop music like rock, blues, soul, or punk provides a first contact to one's own aesthetic self-definition, as a kind of a pop ID."
In Athens, Kress is uniquely interested in working with undergraduate and graduate students to embrace global POP phenomena as a connective material for gauging seemingly distant hinterland-urban dependencies. Kress hopes to include these new student collaborations as North American consequences, expanding upon the work of HyperCultural Passengers, which asks:
"What can art and culture mean as part of a world of simultaneity in which tourists from the north bathe in the southern seas while enjoying a year's vacation, while deprived escaped fugitives in identical waters go on a fatal journey? What does culture promise if their mobility shortens distances in supersonic speed and their places coincide in time? What is culture from the non-European perspective of the East and the South in times of global digital exchange of data and information? How can we reconcile ideas such as art, culture, aesthetics in a way that breaks up identity solidifications?"
Kenneth Holmqvist
Host: Victoria Hasko (Hugh Hodgson School of Music)
Residency Date: September 2018
Kenneth Holmqvist is a professor at North-West University, South Africa, at the Masaryk University in Brno, Czech Republic and is currently a guest professor at Regensburg University, Germany. Holmqvist has worked with eye-movement research since 1995. He has conducted a long series of innovative research projects using eye-trackers, from mental imagery to decision making, reading, air traffic control, and eye movements in animals.
Most people report having mental imagery when listening to speech, reading text or just remembering something, yet it has been notoriously difficult to study these mental images. A large body of recent research has shown that spontaneous eye movements frequently occur when information is recalled from memory and that such gaze patterns closely overlap with the spatial configuration of the recalled information. This effect has been demonstrated for participants who encode visual scenes while looking at an empty screen as well as for those who listen to scene descriptions. It has been suggested that eye movements to blank spaces, or the processes driving them, function as "spatial indices," that may assist in arranging the relevant parts of a visualized scene. In support of a functional role of imagery, impaired episodic memory performance has been reported in experiments where participants are restricted to look at a fixation cross during recall. Taken together, research on eye movements during memory retrieval and mental imagery shows the possibility of tracking the "mind's eye" when the visuospatial configuration of an episodic memory is re-constructed, and there is substantial evidence that this effect occurs irrespective of whether such a memory trace is based on textual, visual or verbal information. This talk closes by discussing the applications of such research, including possibilities to retrieve images through automatic algorithms that record eye movements during thought processes.
This event is hosted by Victoria Hasko, associate professor of language and literacy education, program chair of the TESOL and World Language Education Program, and director of the UGA Russian Flagship Program.
William Westney
Host: Pete Jutras (Hugh Hodgson School of Music)
Residency Date: February 2018
William Westney, professor of piano at Texas Tech University and has been awarded that school's highest teaching honor. Author of The Perfect Wrong Note, and pioneer of the groundbreaking "Un-Master Class." Westney's work has been described as "fascinating" by The New York Times and has been presented at top music schools around the world.
Westney presented a series of sessions and master classes at the Hugh Hodgson School of Music as part of the Hugh Hodgson School of Music's biannual Piano Pedagogy Symposium. He also participated in a join interdisciplinary session with the Horn Workshop. These sessions covered a variety of engaging and thought-provoking talks on music learning and teaching.
Will Alexander
Host: Jed Rasula (English)
Residency Date: January 2018
Will Alexander works in multiple genres. In addition to being a poet, he is also a novelist, essayist, aphorist, playwright, philosopher, visual artist, and pianist. His books include Asia and Haiti, The Sri Lankan Loxodrome, and Compression and Purity. His honors and awards include a Whiting Fellowship for Poetry, a California Arts Council Fellowship and the 2016 Jackson Poetry Prize.
Alexander gave a public reading at Ciné and also took part in a public conversation with Ideas for Creative Exploration (ICE) in the Lamar Dodd School of Art. His visit was supported by the Willson Center and the Creative Writing Program in the department of English.
John Freyer
Host: Marni Shindelman (Photography and Graphic Design)
Residency Date: November 13-16, 2017
John Freyer's art is rooted in social practice, specifically the exchange of goods to encourage experience.  In his latest project Hot Coffee: Recovery Roast, Freyer has built a mobile coffee bike that moves across campus; encouraging conversations between community members. In an age of short text messages and emails, Freyer's work emphasizes face-to-face communication as community building and spaces for healthier individuals and families. He sees the local artisan as an integral aspect of community economic and social development.  

Sponsored by a Willson Center Short Term Fellowship, the project will begin with students in both the Lamar Dodd School of Art and the College Recovery Center. Students will work with 1000 Faces Coffee to develop a blend reminiscent of the types of connections they long for, and specific to the UGA community. Students will then learn the art of communication and conversation from Freyer, through workshops and exercises he has developed to prepare them to drive the bike. Like an ancient tea ceremony, Freyer will train them in the art of the pour over. Students will then ride the bike around UGA campus for three days in various shifts, pursuing the art of the conversation.
John Freyer's work has been reviewed in The New Yorker, The Sunday London Times, Artforum, Print Magazine and NBC's The Today Show. Freyer is a Fulbright Scholar, a Macdowell Colony Fellow and was an Artist in Residence at Light Work and the Fannon Center, Doha, Qatar. Freyer has brought his social practice projects – Free Ice Water, Free Hot Coffee and Free Hot Supper to the TEDx stage, has exhibited at Mixed Greens Gallery in New York, the Liverpool Biennial Fringe in Liverpool, UK and is currently a Tate Exchange Associate at the Tate Modern in London.
Neal Lester
Host: Jonathan Evans (English)
Residency Date: September 13-17, 2016
Neal Lester is the Founding Director of Arizona State University's award-winning initiative Project Humanities, as well as holding the titles of Foundation Professor of English, Dean's Distinguished Professor of English, Parents Association Professor of the Year, and Arizona Humanities Council Distinguished Public Scholar. His research interests include African American literature and culture: children's literature, folklore and popular culture, black/white interracial intimacies in American culture, African American women writers, black masculinities, the N-word, and the gender and race politics of hair.
His visit to UGA was sponsored by the Willson Center, DIG Fellowship, the department of English, the Linguistics Society at UGA, the Graduate School, the Linguistics Program, the Creative Writing Program, the Georgia Chapter of the NAACP, the Special Collections Libraries, the Grady College of Journalism, the Panhellenic Council, and the Economic Justice Coalition of Athens.
Melinda Wagner
Host: Peter Van Zandt Lane (Hugh Hodgson School of Music)
Residency Date: November 14-18, 2016
Melinda Wagner achieved widespread attention when her colorful Concerto for Flute, Strings, and Percussion was awarded the 1999 Pulitzer Prize in Music. Since then, major compositions have included her Concerto for Trombone and Orchestra, for Joseph Alessi and the New York Philharmonic, and a piano concerto, Extremity of Sky, commissioned by the Chicago Symphony for Emanuel Ax. She joined the composition faculty at Juilliard in Fall, 2016. In the composer's words:
"Music offers composers an immeasurably rich and generous sonic landscape in which to explore the ʻlife story' of each musical idea—its dramas, intrigues, joys and sorrows—a life. I strive to find various and persuasive ways of moving through the resulting temporal narrative, and to traverse a wide spectrum of expression and color on the way."
Wagner attended performances by the Hodgson Wind Ensemble and Rote Hund Muzik (UGA Contemporary Chamber Ensemble), held master classes with composition students, and spoke on her work at the Roger and Phyllis Dancz Center for New Music.
Tom Gunning
Host: Nell Andrew (Lamar Dodd School of Art); Co-Sponsor Susan Rosenbaum (Department of English)
Residency Date: January 26-29, 2016
Tom Gunning is among the leading scholars of film in the United States and the Edwin A. and Betty L. Bergman Distinguished Service Professor of Art History and Cinema and Media Studies at the University of Chicago.  In over one hundred publications, Gunning has concentrated on early cinema (from its pre-history through the World Wars). Interest in Gunning's work is widely interdisciplinary for he has sought to define, through more than 100 publications, the cinema growing in its early years alongside a new culture of modernity. He has written two award-winning books on the major filmmakers Fritz Lang and D. W. Griffith, and is the recipient of numerous honors including an Andrew A. Mellon Distinguished Achievement Award (2009), election to the American Academy of Arts and Sciences (2010), and the Society for Cinema and Media Studies Distinguished Career Achievement Award (2015).
Gunning will participate in a Cinema Roundtable and engage with students and faculty in art history and film. He will also work with faculty in the Interdisciplinary Modernisms Faculty Research Cluster.
Volvox Labs (VVOX)
Host: Eric Marty (School of Marine Programs); Co-sponsor: Lynn Boland (Georgia Museum of Art)
Residency Date: March 28 – April 1, 2016; Exhibit Dates March 31 – June 19

Led by owner and Creative Director Kamil Nawratil, Volvox embraces projects from a wide range of forward-thinking clients. VVOX's work transcends physical architecture, creating engaging interactive spaces with technology to uniquely raise brand awareness, engage consumers in the real world, enhance festival and conference activations, retail environments, and increase interactivity and function within office and community spaces.
The VVOX residency will coincide with the Slingshot Festival of Music, Electronic Arts and Technology, and serve as a keystone of both the Art and Tech sections of the festival.
Classic City New Music Festival
Host: Peter Lane and Adrian Childs (Hugh Hodgson School of Music)
Residency Date: April 4-16, 2016
Location: Hugh Hodgson School of Music, Performing Arts Center
The Roger and Phyllis Dancz Center for New Music, with support from the Willson Center for Humanities and Arts, will host a week-long festival of new music. The Classic City New Music Festival will feature chamber and electroacoustic recitals, guest performances, workshops, and discussions. Featured guests include Boston-based bass clarinet and marimba duo Transient Canvas, and acclaimed electroacoustic pianist and composer Keith Kirchoff.
The festival will include a composition seminar featuring a panel discussion with Transient Canvas and pianist Keith Kirchoff in a discussion moderated by members of the Student Composers Association. The panel will discuss what goes into developing a career as highly active and touring performers specializing in contemporary music, and what professional musicians seek in the commissioning of new works by living composers.
Christopher Hager
Host: Cody Marrs (Department of English)
Residency Date: October 19-22, 2015
Location: Park Hall, Hargrett Special Collections Library (2nd Floor)
Christopher Hager, Associate Professor of English at Trinity College, is one of the preeminent young scholars of nineteenth-century African American history and culture. His first book, "Word by Word: Emancipation and the Act of Writing," was published by Harvard University Press in 2013, and was a finalist for both the Frederick Douglass Prize and the Gilder Lehrman Prize, which are awarded annually to the best book on slavery and the Civil War era (respectively). He is the recipient of prestigious, year-long fellowships from both the National Endowment for the Humanities and the American Council of Learned Societies. He has also published articles in the field's top journals, including "American Literature" and "J19: The Journal of Nineteenth-Century Americanists," and has work forthcoming in "The Cambridge History of the American Civil War," "Teaching the Literatures of the American Civil War," "Literary Cultures of the Civil War," and other venues.
Alexandre Munz
Host: Lisa Fusillo (Department of Dance)
Residency Date: March 5, 2:15 pm
Location: New Dance Theatre, Dance Building
Prior to becoming Principal Soloist at the Berlin Opera Ballet, Alexandre Munz trained at the Paris Opera Ballet School in the early 80's before the emergence of somatic practices and modern dance in France. Ten years later, after an intense international career, Munz leads in the cutting edge of contemporary international somatic practices. He initially created S.A.F.E.™ – Spine Advanced Functional Empowerment – to self-heal from chronic pathologies and migraines developed during ballet training.
Now, as a choreographer and educator, his innovative S.A.F.E.™ pedagogy has received a grant from the French Ministry of Culture to implement a major research and development project in partnership with French national institutes, gathering health experts, high-level dancers and athletes. A scientific treatise of this work is archived at the Centre National de la Danse in Paris and has been made available to the Slippery Rock University Department of Dance.
Alexandre Munz will lead a lecture-demonstration presented in the New Dance Theatre on Thursday, March 5 from 2:15-3:15pm. This event will feature Information on Munz's S.A.F.E.™ Project (Spine Advanced Functional Empowerment) and his choreographic process, Graphysiology. He will also present his original work, Defocus, set on 14 students from the Department of Dance.
SAFE Floor™ (a somatic practice), SAFE Barre™ (a barre training based on traditional barre exercises) and Graphysiology™ (tools for dance-making which incorporate mental imagery) are based on the spine's spiral concept and the activation of a neuromuscular reflex that allows muscles to generate contraction and relaxation simultaneously (reciprocal innervation reflex). With this interactive muscular concept, dancers automatically strengthen deeper muscles while enhancing their body-perception in tridimensional patterns. Munz's methods are currently in use by dancers and high-level athletes in Europe and in the USA.
Mequitta Ahuja
Host: Katie Geha (Lamar Dodd School of Art)
Residency Date: January 27, 2 pm
Location: Lamar Dodd School of Art, room N150
Ahuja is an artist who lives and works in Baltimore, Maryland. She received an MFA from UIC in 2003, mentored by Kerry James Marshall. Her work has been exhibited across the U.S as well as in Paris, Brussels, Berlin, India and Dubai. Ahuja has had solo exhibitions at the Museum of Contemporary Art Chicago's 12X12, Lawndale Art Center in Houston, TX, BravinLee Programs in New York and Nathalie Obadia Gallery in Paris, France. Group exhibitions include: Global Feminisms at the Brooklyn Museum, Houston Collects African American Art at the Museum of Fine Arts Houston, Poets and Painters at the Ulrich Museum in Wichita, KS, "Undercover" at Spelman College Museum of Fine Art and Usable Pasts at the Studio Museum in Harlem. In addition to exhibition catalogues, Ahuja's work has appeared in Modern Painters, March 2007 and Art News, February 2007. Ahuja is the recipient of a 2011 Tiffany Foundation Award, a 2009 Joan Mitchell Award, and a 2008 Houton Artadia Prize. Her work is included in several  public collections including the Museum of Fine Arts, Houston, The Philadelphia Museum of Art, and the Minneapolis Institute of Arts.
Mequitta Ahuja will examine the paintings and drawings on view in her LDSOA exhibition as well as discuss works from a number of other exhibitions includingCrystal Bridges' State of the Art, her 2013 solo show at Thierry-Goldberg Gallery in New York and Portraiture Now at the National Portrait Gallery in Washington D.C. She will explain her process and artistic references and provide some biographical information that pertains to her work and career including her heritage and upbringing, her participation in artist in residence programs, and her recent travels to Italy.
This event is hosted by the Lamar Dodd School of Art with support from the Willson Center's 2014-2015 Short-Term Visiting Fellows program.
Red Priest
Host: Caitlin Hubbard (Performing Arts Center)
Performance Date: November 12, 8 pm
Location: Hodgson Concert Hall, Performing Arts Center
Red Priest is the only early music group in the world to have been compared in the press to the Rolling Stones, Jackson Pollock, the Marx Brothers, Spike Jones and the Cirque du Soleil. This extraordinary acoustic foursome has been described by music critics as 'visionary and heretical', 'outrageous yet compulsive', 'wholly irreverent and highly enlightened', 'completely wild and deeply imaginative', with a 'red-hot wicked sense of humor' and a 'break-all-rules, rock-chamber concert approach to early music'.
Founded in 1997, and named after the flame-haired priest, Antonio Vivaldi, Red Priest has given several hundred sell-out concerts in many of the world's most prestigious festivals, including the Hong Kong Arts Festival, Moscow December Nights Festival, Schwetzingen Festival, Prague Spring Festival, Ravinia Festival, Bermuda Festival, and in most European countries, Japan, Australia, and throughout North and Central America. The group has been the subject of hour-long TV profiles for NHK (Japan) and ITV (UK) – the latter for the prestigious South Bank Show in 2005, which documented the launch of the Red Hot Baroque Show, an electrifying marriage of old music with the latest light and video technology. Red Priest includes virtuoso recorder player Piers Adams, the Canadian baroque/Cape-Breton violinist David Greenberg, cellist Angela East, and harpsichordist David Wright. These musicians have redefined the art of period performance, creating a virtual orchestra through their creative arrangements, performing from memory with swashbuckling virtuosity, heart-on-sleeve emotion and compelling stagecraft. Their repertoire ranges from obscure 17th century sonatas to the most famous works of Bach and Vivaldi, all presented in imaginative programmes with filmic titles: 'Priest on the Run', 'Nightmare in Venice', 'Pirates of the Baroque'.
Stephen Burns
Host: Brandon Craswell (Hugh Hodgson School of Music)
Residency: November 10 – November 14, 2014
Performance Date: November 14, 8 pm
Location: Ramsey Concert Hall, Hugh Hodgson School of Music
Stephen Burns is a trumpeter, conductor, composer and teacher educated at the Juilliard School, with post-graduate studies in Paris, Ottawa, and Chicago with legendary teachers Pierre Thibaud, Jorma Panula, and Arnold Jacobs. Winner of the Young Concert Artists International Auditions and the Maurice André International Competition, Stephen is the Founder and Artistic Director of Fulcrum Point New Music Project, as well as visiting lecturer at Northwestern University and Amici della Musica, Firenze.
The Hugh Hodgson School of Music Trumpet Studio will host Stephen Burns to campus for a five-day residency the week of November 10-14.  Burns is a versatile artist equally at home as a trumpeter, conductor and composer. Burns's residency will culminate with a public recital on November 14 at 8 pm in Ramsey Hall at the Performing Arts Center. This recital will fall at the end of the Spotlight on the Arts Festival, and will incorporate collaborations with the dance department, the trumpet studio, as well as the faculty brass and voice departments.  Burns's visit will involve many interactions with the faculty and students at the School of Music, including morning warm-ups with the trumpet studio, private trumpet lessons, as well as rehearsals with piano, voice, dance, the trumpet studio, and faculty brass. Below is a list of his public presentations:
Monday, November 10th 
11:15-12:05 Room 200, Hugh Hodgson School of Music
Trumpet Masterclass
Wednesday, November 12th
11:15-12:05 Room 200, Hugh Hodgson School of Music
Trumpet Masterclass
Thursday, November 13th 
12:00-1:30 Edge Hall, Hugh Hodgson School of Music
Seminar on Professional Development
Friday, November 14th
8:00pm Ramsey Hall, Performing Arts Center
Recital, Reception to follow
Amanda Concha-Holmes
Host: Meredith Welch-Devine (Interdisciplinary Graduate Studies)
Residency: October 20 – October 24, 2014
Amanda Concha-Holmes' work as a visual and ecological anthropologist embraces the notion of applied documentary filmmaking to further human understanding of and collaboration in multispecies encounters through evocative ethnography. Specifically, she is developing a conceptual framework for an applied, feminist, postcolonial visual anthropology that is dedicated to reframing methodological techniques. She promotes the use of art, sound, videography and an inclination for anthropological insight to improve collaborative conservation projects that raise awareness of intersections of power dynamics that include race, region, gender, class and others elements of human-ecological relationships that are integral and must be visible in policy-making decisions and interpretations of geographical space.
Amanda Concha-Holmes' 5-day residency at the University of Georgia will take place during the week of October 20th – 24th, 2014. The schedule of main events is listed below:
Monday, Oct. 20 6-8 p.m.: Film Screening and Guided Discussion, Ciné LAB
Tuesday, Oct. 21 6:30-7:30 p.m.: NMixer (New Media Institute Mixer), 4th floor event area in the Journalism building
Wednesday, Oct. 22 5-6:30 p.m.: LACSI (Latin American and Caribbean Studies Institute) Reception, LACSI building
Thursday, Oct. 23 4-5 p.m.: ICE (Ideas for Creative Exploration) Conversation, ICE Office (Lamar Dodd School of Art, Room S160)
Friday, Oct. 24 3:30-4:30 p.m.: Closing Lecture, "Interspecies Entanglements," Caldwell Hall, room 304
In general, Dr. Concha-Holmes will spend her week at UGA working with various colleges and student groups across campus. This will include such activities as a classroom presentation with students in the College of Environment and Design and an afternoon brownbag discussion with the New Media Institute's Journalism majors regarding her use of innovative media technology.  In addition to these activities, Amanda will schedule one-on-one mentoring sessions throughout the week with students interested in further developing the use of videography and photography in their own work.
Vladimir Ivanov
Host: Levon Ambartsumian (Hugh Hodgson School of Music)
Residency: October 31 – November 9, 2013
Performance Date: November 5, 8 pm
Location: Hodgson Hall, Performing Arts Center
Vladimir Ivanov is the Dean of the Orchestral Department at the Moscow Tchaikovsky Conservatory and serves as the head of the Violin Department. He also holds the honor of being a People's Artist of Russia. His repertoire includes a few hundred works of solo and chamber music in all genres. In addition to serving as a jury member in many international music competitions, he tours and holds master classes in Russia and abroad, traveling to Germany, Switzerland, Finland, Austria, the United States, Denmark, Italy, South Korea, North Korea, Portugal, and Greece.
He won first prize at the Bach International Competition in Leipzig, Germany, in 1972 and gold medals in the Katy Popova International Festival in Pleven, Bulgaria, and the M. Ravel International Music Festival in Bordeaux, France, in 1974 and 1976, respectively.
During his residency, Vladimir Ivanov will perform with the ARCO Chamber Orchestra and host a number of events. The performance will take place November 5th at 8 pm in the Hugh Hodgson Hall. Chamber orchestra workshops will take place November 1, 3, and 4 within the School of Music.  A violin master class will be held on November 6 and 7, time and place to be announced. A chamber music quartet workshop will be held on November 8.
David Geringas
Host: David Starkweather (Hugh Hodgson School of Music)
Residency: January 21 – January 23, 2013
Performance date: January 21, 8 pm
Location: Ramsey Concert Hall
David Geringas was the gold medal winner of the Tchaikovsky International Competition in 1970.  A protégé of Rostropovich, he is now the most sought-after cello teacher in Europe.  His many recordings and performances demonstrate beautiful sound and beautifully expressive phrasing.  Today Mr. Geringas is one of the most outstanding cellists on the international concert stage.
David Geringas will perform on January 21 at 8 pm and will be joined for this recital by pianist Ian Fountain. The event is part of the Franklin College Chamber Music Series. He will hold master classes on January 22 and 23.
Kopelman String Quartet
Host: Levon Ambartsumian (Hugh Hodgson School of Music)
Residency: October 2 – 10, 2012
Concert date: October 7, 2012, 3 pm
Location: Hodgson Hall, Performing Arts Center
The Kopelman Quartet is one of the major string quartets of the world and bears an extraordinary legacy in chamber music. Founded a decade ago by graduates of the Moscow Conservatoire, the quartet is steeped in the standards and style of the classic Russian school. Their performances are marked by a rich inheritance of technical excellence, lyricism, grace, and musical integrity. While on campus, the Quartet will lead individual master-classes and quartet master-classes and hold meetings with UGA Faculty and students. The Quartet will give the Payne Memorial Concert as part of the Franklin College Chamber Music Series on Sunday, October 7 at 3 pm in Hodgson Concert Hall.
Liz Lerman
Host: Mark Callahan (Lamar Dodd School of Art and ICE [Ideas for Creative Exploration])
Residency: October 29 – November 2, 2012
Lecture: "Hiking the Horizontal: Making Rules, Breaking Rules"
Date: Thursday, November 1, 4 pm
Location: Room 248, Miller Learning Center
ICE is pleased to host Liz Lerman for a weeklong residency at UGA, sponsored by the Willson Center for Humanities and Arts, Department of Dance, Department of Theatre and Film Studies, Lamar Dodd School of Art, and Hodgson School of Music. The program is also supported in part by the President's Venture Fund through the generous gifts of the University of Georgia Partners and other donors.
Liz Lerman is a visionary choreographer, performer, educator, and writer best known for organizing highly collaborative works that cut across traditional disciplines and communities. She has been the recipient of numerous honors, including a MacArthur "Genius Grant" Fellowship and a United States Artists Ford Fellowship. Her work has been commissioned by the Lincoln Center, American Dance Festival, Harvard Law School, and the Kennedy Center among many others. Her recent work, "The Matter of Origins," examines the question of beginnings through dance, media, and innovative formats for conversation supported by the National Science Foundation.
Born in Los Angeles and raised in Milwaukee, Lerman attended Bennington College and Brandeis University, received her BA in dance from the University of Maryland, and an MA in dance from George Washington University. In 1976 she founded Dance Exchange, based in the Washington DC area and now regarded as one the most innovative and creatively expansive dance companies in the world. She is the author of many articles and books including "Teaching Dance to Senior Adults" (1983), "Critical Response Process" (2003) and "Hiking the Horizontal: Field Notes from a Choreographer" (2011).
Liz Lerman's five-day residency will feature both her mastery as a choreographer and her extraordinary ability to galvanize and inspire dialogue among multiple voices – artistic, scientific, and scholarly – in all their varied perspectives. Her visit will include workshops, a public lecture, master classes in the Department of Dance, and training in the Critical Response Process, a critical feedback methodology that evolved over the past twenty years through workshops and a book that has been adopted by many artmakers, educators, and administrators.
Lerman will be joined by John Borstel, a visual artist, writer, arts administrator, and Senior Advisor for Dance Exchange. Borstel is the co-author of "Critical Response Process," and has travelled widely to teach and facilitate this unique feedback system, which emphasizes the values of dialogue and active involvement by the artist.
For more information about Liz Lerman, please visit http://www.lizlerman.com
View videos
Marcus Bugler
Host: Joan Buttram (Department of Dance)
Residency: April 4 – 6, 2013 in connection with the Spring Dance Concert, Department of Dance
Marcus Bugler is executive dance director and choreographer for Glenbrook Studios®, a motion picture production and distribution company based in Las Vegas, Nevada, and Instructor and Choreographer for Nevada Ballet Theatre and Cirque du Soleil's production of Viva Elvis. Bugler is recognized for his skill in training actors and singers to be theatrical movers on stage and screen.
Professionally, Bugler has been a dancer with the Muny Opera in St. Louis; the Harkness Youth Dancers (performing at the White House); the Harkness Ballet (touring all over Europe); Joffrey II; the Eglevsky Ballet; and the New York Metropolitan Opera, where he was dancer, Dance Captain, Ballet Rehearsal Assistant, and finally Repetiteur in 2001.
In 2003 he moved to Las Vegas to become Artistic Coordinator for the Cirque du Soleil production of Zumanity: The Other Side of Cirque du Soleil. He was brought in as a guest artist of the Chicago Lyric Opera twice, first as Assistant Choreographer to restage the dances in the opera The Great Gatsby and in 2006, as Choreographer for Robert Carsen's production of the opera Orfeo. Before joining Cirque, he was invited in 2003 and again in 2008 to Japan to choreograph the dances for the Ongaku-Juku production of the opera Die Fledermaus, and in 2007 for the Saito-Kinen Matsumoto production of the opera Queen of Spades, all conducted by the brilliant Seiji Ozawa.
With a dance knowledge covering a wide range of techniques, including Modern, Jazz, Ballet, Flamenco and Ballroom, Marcus teaches master classes, gives workshops, adjudicates and choreographs in dance schools, camps and conventions across the country; notably Lindenwood University and Utica College as guest faculty, Chautauqua Summer Arts Festival, Ballet School of Stamford, Steps and Broadway Dance Center in New York City, Eastern Virginia School of Performing Arts, Ballet Tennessee, the Sawnee Ballet in Georgia, South Carolina Summer Dance Conservatory, Las Vegas Contemporary Dance Theatre, the Dance Educators of America, and Soulfire Dance.
Bugler still performs on stages: as a stepsister in Peter Anastos' ballet Cinderella and as Herr Drosselmeyer in The Nutcracker.